I stood behind a woman in line the other day, she looked very pretty but acted very ugly. She was rude, short and condescending to the clerk who was trying to help her.
Now I don't know her story, so I can't, well I least I shouldn't, judge what she did but it did remind my of an ancient Hindi word Genshai.  Genshai means "never treating others in a way to make them feel small" or in other words, holding all people in their excellence… including yourself.
I always find that when we try to make someone look small, we only serve to do that very thing to ourselves. It's not flattering at all.
As simple as holding a door open, saying thank you, making eye contact, smiling at a stranger, living Genshai is a reflection of how you view yourself and how you live your life.
Whether it's treating service personal kindly, acknowledging someone on the street, giving people the benefit of the doubt or loving ourselves by using kind word words, gentle thoughts and forgiveness, a life lived with Genshai, is a life well lived.
***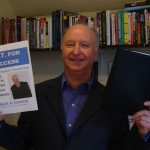 This week Emmy award winning television producer Paula Rizzo joined me on the Your Life, Unlimited radio show.  She's also the author of Listful Thinking: Using Lists to be More Productive, Highly Successful and Less Stressed and along with Richard Lannon, author of the soon to be published book Set for Success – we had a great discussion about productivity and success.
You can enjoy the whole show here and Paula's guest blog post below…

Productivity Secrets From a Compulsive List Maker
I've been making to-do lists for as long as I can remember. Work stuff, personal stuff, blog stuff…you name it…I've made a to-do list about it. But I understand that not everyone does this and it may not come as easily to others. So I'm going to give you some of my list-making secrets.
It's easy to be overwhelmed by your list and ignore it. But the benefits of a to-do list are vast. If you make a well-constructed list it will work to your advantage. Here's how to make the ultimate to-do list and stick to it.
1. Just Write it Down: It's easy to forget things that you don't have right in front of you. So write down any task you need to do as soon as you think about it. It doesn't matter if the list is in any particular order right now – just write it down.
2. Organize Your List: Once you know all the things you have to do — organize this list. Break it up into categories: work, home, kids, play, etc. Each area of your life should have it's own list. Don't mix — it will just overwhelm you and then you will ignore your list.
3. Prioritize: Once you have your separate lists – go over each item and order them by deadline or importance. This will help you stay on track and only focus on what needs to be done right now. Sure there may be other tasks that are easier to do but might not be as important. Reject your temptation to jump into those tasks first just because they are easy – it will just put you behind schedule.
4. Re-Write: Now that you've organized your list by category and decided what's most important – rewrite your list. By making a clean list that is easy to read you will be more likely to refer to it and check things off in order.
5. Repeat: In order to get things accomplished – make as many lists as you need to make. I make a list everyday and then add to it. Sure it's like a little cheat sheet – but it will make you more efficient.
***
Stephanie Staples, CSP* is the author of When Enlightening Strikes – Creating a Mindset for Uncommon Success, an internationally acclaimed motivational speaker, and the recipient of the 2014 Manitoba Woman Entrepreneur Award for Contributions to Community. Stephanie empowers audiences & clients across North America to bring their 'A' game to work and to life. Stephanie has a special interest in working with and empowering nurses and healthcare providers. She happily calls Winnipeg, Manitoba, Canada home. You can get loads of complimentary resources to help with issues such as work/life balance, wellness, stress management and happiness in general, as well as find out more information about her coaching and speaking services at http://www.YourLifeUnlimited.ca.
* Certified Speaking Professional (CSP), conferred by the National Speakers Association is the speaking profession's international measure of professional platform proficiency. Less than 10 percent of speakers have earned this credential and are recognized as some of the best in their fields. Stephanie was one of only five professional speakers in Canada (and the only woman) to attain this designation in 2013.